Connect with the DFPI via Email
Public Email Subscription Service
The Department of Financial Protection and Innovation (DFPI) offers a free email subscription service through our contractor GovDelivery. This service allows you to sign up for email updates about topics relevant to your interests.
To receive DFPI's GovDelivery email updates, click on the Subscription Manager link below and provide the email address where you want the notifications to be sent and select the notifications you want to receive. If you are already receiving email notifications you can use the Subscription Manager to change your email address, modify your password, add or delete subscriptions, or remove your email address from this service.
Maintaining Privacy
When you sign up for this subscription service, you will be asked to provide your email address and the updates you would like to receive. GovDelivery will use the information you provide to deliver the notifications you have requested and to allow you to update your subscription preferences. DFPI and GovDelivery will not share your personal information with third parties for promotional purposes.
---
Licensee Designated Email Registration & Updates
Institutions licensed by the DFPI are required to provide and maintain an email account that is designated for communications with the DFPI, per the Commissioner's Order issued November 22, 2013.  The purpose of the Order is to create rapid, direct communication to an email account that your company will monitor daily.
To register or update the designated email for your business, please access DFPI's DOCQNET self-service portal.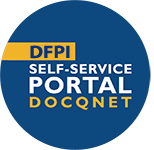 If you are a DFPI licensed business and have questions about registering or changing a designated email, please contact:
Banks, Credit Unions, Money Transmitters: licensing@dfpi.ca.gov
Broker-Dealers & Investment Advisers: iaamend@dfpi.ca.gov
Finance Lenders, Payday Lenders, Escrow Companies: FS.DEInquiries@dfpi.ca.gov
Mortgage lenders: ML.DEInquiries@dfpi.ca.gov
Securities filers: srd_support@dfpi.ca.gov
News & Info Links
News
---
Information
Last updated: Feb 24, 2021 @ 3:30 pm