Information on DFPI's Self-Service Portal – DOCQNET
Note: The June 2020 changes to searchable documents have been deferred until further notice.
About Self-Service DOCQNET Portal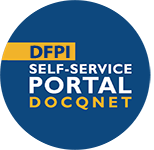 The Department of Financial Protection and Innovation launched the Self-Service DOCQNET Portal on June 18, 2014.
The new portal will significantly improve how we communicate with applicants and licensees and enhance consumer support.
The core objectives of the portal are to:
Streamline the review of applications and renewals.
Improve exam planning and coordination.
Better utilize data to monitor and evaluate the financial services marketplace.
Limited Offering Exemption Notice
Securities permit applications and exemption notices filed pursuant to the Corporate Securities Law of 1968 and franchise applications and exemption notices filed under the Franchise Investment Law may be filed and paid for online using the Self-Service Portal.
DOCQNET replaced the former electronic 25102(f) Limited Offering Exemption Notice (LOEN) filing system and the California Electronic Access to Securities Information and Franchise Information (Cal-EASI) database. Information that was available using the Cal-EASI database (including LOEN filings) will continue to be accessible and available on the new portal.
Information for Licensees
Companies and individuals with a license or seeking to obtain a license to conduct business in California can use the Self-Service Portal. 
Companies licensed under the California Financing Law, California Deferred Deposit Transaction Law, and Escrow Law are be able to:
Submit Annual Report information online.
Update contact information online.
More features will be added soon.
i

Note for NMLS system:

Companies and individuals licensed under the California Residential Mortgage Lending Act, California Finance Lenders that make residential loans, and Mortgage Loan Originators will continue to use the Nationwide Mortgage Licensing System (NMLS).