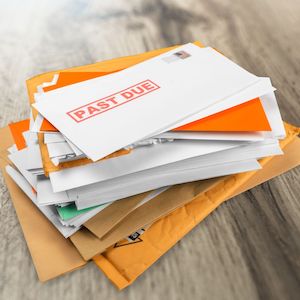 Medical Debt Collection – Know Your Rights
 According to the Consumer Financial Protection Bureau's (CFPB) 2022 Medical Debt Burden in the United States Report, $88 billion of outstanding medical bills are currently in collections – affecting one in five Americans. Medical debt is the most common collection type reported on consumer credit records, and consumers report being contacted by debt collectors about medical debt more than any other type of debt.  
Once medical bills enter collections, they are often reported to consumer credit reporting companies. Medical debt collections on a credit report can impact your ability to buy or rent a home, raise the price you pay for a car or insurance, and make it more difficult to find a job. Medical debt can also lead people to avoid medical care, develop physical and mental health problems, and face adverse financial consequences like lawsuits, wage and bank account garnishment, home liens, and bankruptcy. 
What is Medical Debt?
Medical debt is a debt that arises from a visit or interaction with a health care provider, such as a hospital, clinic, doctor, or nurse. Two-thirds of medical debts are the result of a one-time or short-term medical expense arising from an acute medical need.  
Unlike many other consumer debts, people rarely plan to take on medical debt. For example, you might get into a car accident and end up in an emergency room. You are released with a concussion and a broken leg. You leave the ER without paying a bill. Perhaps a bill never comes, you get better, and forget about it. Then, much later, you receive a collections call, and you have no documentation to defend your case. 
Medical debt is unique because consumers have less ability to shop around for medical services. Medical billing and collections practices can also be confusing and difficult to navigate. After billing, providers often send unpaid accounts to third-party collections. These companies have little access to providers' records, which can make it difficult for consumers to confirm that the medical debts claimed by collectors are valid and accurate.  
Know Your Rights
If you are a California consumer with a medical bill that has been sent to a debt collector, you have rights! Before paying any debt collector, always confirm the accuracy of their claim. You have the right to request a verification of the debt from the debt collector and from your provider. Before paying a debt collector with possible fake claims, or worse, getting involved with a lawsuit or paying expensive penalties, it's important to know your rights and your options. 
No Surprise Medical Bills: 

Unexpected or surprise bills can result from receiving out-of-network care, without your knowledge or consent, at an in-network health facility. Surprise medical bills often happen when you cannot control who provides your care.

Both California and federal laws protect consumers from surprise medical bills, which means debt collectors may not collect these debts.

 

Free or Reduced Care: 

If you cannot afford to pay certain hospital or medical bills, depending on your income, you may be entitled to free or reduced care. Uninsured patients or patients with high medical costs who are at or below 400 percent of the federal poverty level are eligible to apply for a hospital's charity care or discount payment policy. Charity care is available even when your bill is past due. Hospitals cannot sell your patient debt to a debt buyer unless you are ineligible for financial assistance, or you have not responded to a hospital's attempt to offer assistance for 180 days. 

 

Credit Reporting Timeframe:

Hospitals, or any owner of your hospital debt including collection agencies, cannot report negative information to a credit reporting agency or file a civil complaint in court until 180 days after initial billing. Debt collectors must inform you of this timeframe in their first written communication with you.

 

No Reporting Paid Medical Debt:

As of July 2022, the three major credit reporting agencies have agreed to not include paid medical debt on consumers' credit reports.

Starting March 30, 2023,

these agencies have also agreed to stop reporting medical debts under a certain dollar threshold (at least $500) on credit reports, even if the alleged medical debt is unpaid and in collection.

 

Written Notices in Communication:

Hospitals are required to provide you with a specific notice before transferring a hospital debt to a debt collector. This notice will include a copy of an application for free or reduced care under that hospital's policy. In the first written communication with you, debt collectors must also send you a copy of this notice.

 
News & Info Links
News
---
Information